Stevezee, Content creator
"works pretty well
only feedback is it would be better if the processing happens a bit faster, cos it took a couple mins for it to process my video.
other than that love it 🙂"
Publish content in minutes.
Accelerate course creation
Upload raw videos and let AI trim silent parts of the videos for you.
Publish more videos, shorts and reels by using our video silence remover.
Turn your raw podcasts fully edited ready to publish material.
Make Effortless Product Demos that will convert.
More creation, less editing
Edit faster, manage more customers.
Go from end to end without ever touching a timeline.
Turn Your Imagination into Short Videos with AI shorts Generator
This AI tool transforms text prompts into short videos, ideal for creating ads, educational content, and customer support materials, offering a quick, engaging, and easily customizable solution for visual content generation.
Turn long Videos into a bunch of Viral Short Videos.
This AI tool condenses long videos into engaging short clips automatically, leveraging advanced algorithms to select captivating moments, simplifying content creation for enhanced social media engagement and impactful storytelling.
Automatically remove and trim silent parts from your audio files
This audio editing tool automatically identifies and removes silences from recordings, streamlining the editing process for a smooth, professional audio output, ideal for enhancing spoken content and saving time in post-production.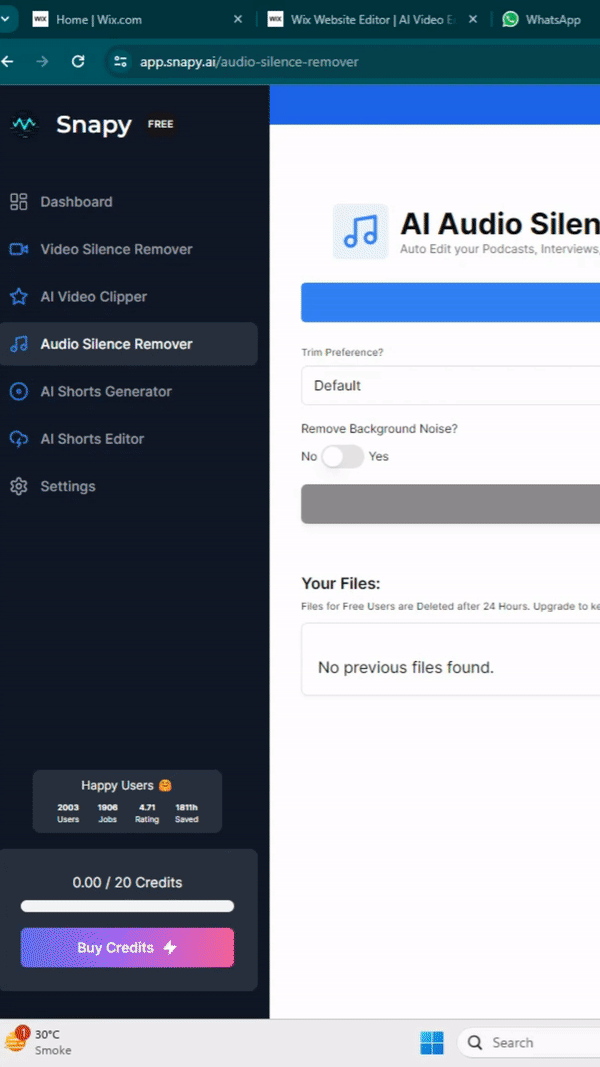 Auto Trim, Remove Duplicate sentences, filler words and add subtitles.
Snapy.AI's AI Shorts Editor revolutionizes video editing by automatically trimming videos, removing duplicate sentences and filler words, and adding subtitles. This tool simplifies complex editing tasks, making professional-quality video editing accessible to everyone.
Content Creators on Overdrive: Revolutionize your posting game! No more compromising on quality or frequency—our feature empowers you to elevate your content output effortlessly.
​
Multitasking Video Editors: Navigate through multiple client projects seamlessly! This is your ticket to juggling deadlines and delivering top-notch edited videos with finesse.
​
Scaling Social Media Maestros: Level up your social media game! Our feature is designed to amplify your efforts, allowing you to scale your impact across platforms effortlessly.
​
Video Quality Visionaries: Transform your videos into masterpieces! For video managers seeking significant quality enhancements, this feature is your secret sauce to elevating visual storytelling.
​
Course Creators on the Fast Track: Accelerate your course creation journey! Say goodbye to time-consuming processes—our feature fast-tracks your course publishing speed without compromising excellence.
​
Universal Creators Everywhere: Calling all YouTube, TikTok, and Instagram enthusiasts! This feature is your all-in-one solution to creating standout content across platforms.
​
Time-Efficient Quality Seekers: For everyone valuing time and quality alike, this feature is your shortcut to video excellence. Elevate your content without sacrificing precious hours.
It's fairly simple process.
​
STEP 1: Upload a video on https://app.snapy.ai​
​
STEP 2: Click on Process
​
STEP 3: Wait for the cloud to process the video. Once it's ready you will get your video in the email and visible on the dashboard.
Snapy | AI Video Editor | AI Shorts Editing
Born out of countless editing hours, this AI tool trims silences, saving you precious time. As fellow creators, we understand the grind. Let's elevate your content together.
​
Watch the Journey: Snapy.ai Demo
​
Trust in our roots, value the connection. Let's craft, create, and conquer.
1. What is Snapy.ai?

Snapy.ai is an AI-powered video editing platform designed to automatically trim silent and quiet parts of your videos, simplifying the editing process and enhancing video content quality.

2. Is Snapy.ai completely free?

While Snapy.ai offers a free version, advanced features and capabilities might require a subscription. The free version is available during our Beta phase.

3. What video formats does Snapy.ai support?


Snapy.ai supports various video formats, including MP4 and other common video file types.

4. Can I use Snapy.ai for bulk processing or commercial use?

Yes, Snapy.ai is suitable for both individual and bulk video processing. For commercial purposes, consider our subscription plans for more advanced features.

5. What's the maximum video resolution/file size supported by Snapy.ai?

Currently, Snapy.ai supports videos up to 1 GB in size.

6. How do I remove silent parts from my video using Snapy.ai?

Upload your video to Snapy.ai, click on 'Process', and our AI will automatically detect and remove silent sections.

7. How does the AI in Snapy.ai process videos?

Snapy.ai uses advanced AI algorithms to analyze the audio track of the video, identifying silent or quiet segments and trimming them accordingly.

8. How can I adjust sensitivity settings in Snapy.ai?

At the moment, the sensitivity settings are managed by our AI to ensure optimal video output. However, we do have options for you to pass custom values for your use case.

9. How do I cancel my Snapy.ai subscription?

You can cancel your subscription through your account settings or by contacting our support team at support@snapy.ai.

10. Can I get a refund if I'm not satisfied with Snapy.ai?

Yes, if you're not satisfied and have used less than 30% of the service, you can request a refund. Please refer to our refund policy for more details.

11. Is the subscription renewal automatic?

Yes, subscriptions renew automatically. If you wish to stop the renewal, ensure you cancel your subscription before the next billing cycle.

12. Do you offer any yearly or lifetime plans for Snapy.ai?

Currently, we offer monthly plans. While there's no yearly plan, our lifetime plan offers significant savings for long-term users.

13. How is my video data stored and protected on Snapy.ai?

Videos are securely stored on the cloud, and they're removed once processing is completed. We prioritize data security and employ advanced measures to protect your content.

14. Are there any discounts available for larger teams or enterprises?

For bulk subscriptions or enterprise inquiries, please contact our sales team for customized pricing and offers.

15. How can I contact customer support for any issues or inquiries?

You can reach our support team at support@snapy.ai for any questions or assistance.

16. Are there any tutorials or guides on how to use Snapy.ai effectively?

Yes, you can find some demos here: https://www.youtube.com/watch?v=ZNwV4__oEEo

17. How long does the video processing usually take?


Processing time varies based on video length and complexity. However, our AI is optimized for quick and efficient video processing. Some overview: 🎬 Video Duration ➡️ Processing Time ⏱️ 3 mins ➡️ 5 mins ⏱️ 3-6 mins ➡️ 7 mins ⏱️ 6-12 mins ➡️ 10 mins ⏱️ 12-24 mins ➡️ 20 mins ⏱️ 24-48 mins ➡️ 30 mins ⏱️ 48-60 mins ➡️ 40 mins ⏱️ 1 hr+ ➡️ 🚫 Not supported

18. What's the difference between the free and paid versions of Snapy.ai?

The free version offers basic video editing capabilities and smaller length video, while the paid version unlocks advanced features, faster processing, and priority support.

19. Can I use Snapy.ai on mobile devices?

Yes, Snapy.ai is accessible via web browsers on mobile devices, providing a seamless editing experience across platforms.

20. How often are new features or improvements added to Snapy.ai?

We continuously work on improving Snapy.ai, with updates and new features being rolled out regularly based on user feedback and technological advancements.

21. Is there a community or forum for Snapy.ai users?

Yes, please join our discord channel: https://discord.gg/DMH2QjWfb4

22. What should I do if I encounter an error while processing a video?


In most cases, you will get to know when a video processing fails and why. If your job is stuck. Please contact our support team with details of the issue, and we'll work promptly to resolve it.

23. Can I suggest features or improvements for Snapy.ai?

Absolutely! We value user feedback and encourage suggestions to enhance our platform.

24. How does Snapy.ai handle videos with multiple silent segments?

Our AI algorithm detects all silent segments within a video and trims them, ensuring a streamlined and engaging video output.

25. Are there any restrictions on the content I can process with Snapy.ai?

Users should ensure their content adheres to copyright laws and community guidelines. Uploading copyrighted or inappropriate material is prohibited.

26. Does Snapy.ai add any watermarks to the processed videos?

No, Snapy.ai does not add watermarks to your videos.

27. How can I collaborate with others using Snapy.ai?

Currently, Snapy.ai is designed for individual use. Collaborative features may be introduced in future updates.

28. Are there any integrations available with other tools or platforms?

We're exploring integrations with popular platforms and tools. Announcements will be made as new integrations become available.

29. What payment methods does Snapy.ai accept?

We accept payments through Stripe, supporting most major credit and debit cards.

30. How can I retrieve my password if I forget it?

On the login page, click on the "Forgot Password" option and follow the instructions to reset your password.